The Entry Garden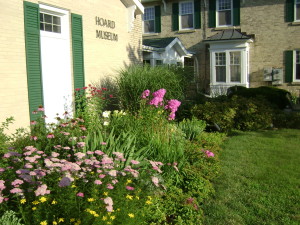 The first garden visitors will see is our Entry Garden. This garden was redesigned in 2010, and planted largely with the overflow of donated plants for the Fence Garden.  Perennials, spring bulbs and shrubs are arranged in a roughly symmetrical pattern centered by the flag pole.
Of note are star magnolias and tree peonies donated by Klehm gardens, a row of PeeGee Hydrangea planted at the rear of the garden, and a mature Red Japanese maple in front of the historic Hoard House. Tall grasses provide winter interest.
The Fence Garden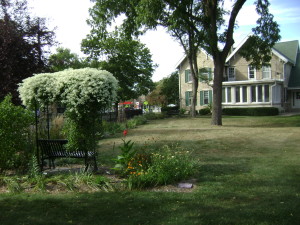 Planted in 2010 with donated plants, this cottage garden contains perennials, bulbs, annuals, and several shrubs. It is 110 feet long, bordered by a picket fence donated by Mark Kerschensteiner, a descendant of the Hoard family.  Several  benches with arbors were donated in memory of museum patrons, and the wooden obelisk was made and donated by a Jefferson County Master Gardener.  The north end  of this garden is shade tolerant, the south side is sunny.