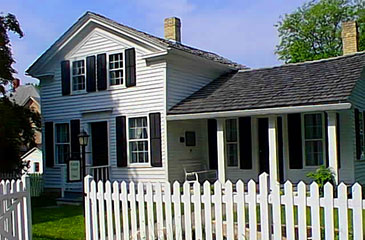 Foster House Open for Tours
The 1841 Foster House will be open on select days during the summer of 2021. 
Step inside the Foster House to see how 19th century Fort Atkinson residents lived, and learn about how the community grew. A friendly guide will be available to answer questions and show visitors around the first and second floor of the house.
Built in 1841 for the princely sum of $2,000, the Foster House was the first frame house constructed in Jefferson County.
Dwight and Almira Foster were the first permanent non-Indian settlers in Fort Atkinson, arriving in November 1836, with their young daughter, Celeste. After four years in their rustic log cabin near the banks of the Rock River, the Fosters moved into this frame house built by fellow pioneer, Charles Rockwell. This two-story, five-room home, with window glass shipped from New York via the Erie Canal, was then called a "mansion in the wilderness."
In 1969, Major Arthur Langholff donated the house to the Fort Atkinson Historical Society and it was moved to its current location on Foster Street, adjacent to the Hoard Historical Museum complex. After a two-year restoration process, the Foster House opened to the public in 1971.
Please Note:  The Foster House is available for touring by advance reservation. Please call the museum at 920/563-7769 or e-mail us at [email protected].